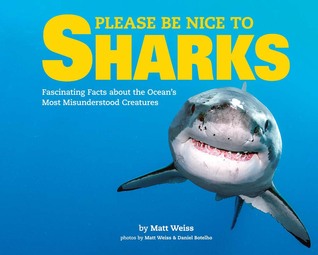 Sterling Children's Books
Summer time is here! Time to splash and swim in the great ocean waters is here! And time to be aware of some of the most awesome creatures on the planet - Sharks. Shark week 2016 is officially beginning Sunday June 26th. But let's begin a countdown now learning about these JAWsome creatures. Then watch everywhere beginning June 26th for more JAWsome information
Sterling Publishing (Sterling Children's Books) has a book that hit the shelves in early June 2016 that is beautifully illustrated showing these JAWsome creatures. Matt Weiss is using his wonderful talent to bring us fascinating facts about the Ocean's Most Misunderstood Creatures.

Now let's dive deep to see just why we should Be Nice To Sharks!
Typically we think of sharks as these stealthy grey & white monsters with horrendous teeth that lurk in the waters preying on people. But as the author points out that it isn't true (p. 3) and that they are being over-fished for collecting fins and for sport. Shark fin soup is considered a delicacy and 70 million sharks killed yearly for this food. Weiss reports that almost all the sharks in the oceans are gone and they could become extinct.
Some say, "Good riddance. They are dangerous." But consideration needs to be given to the fact that sharks are like the caretakers of the oceans and the waters cover almost three-quarters of Earth's surface.
WOW
!
Reading Please Be Nice to Sharks: Fascinating Facts about the Ocean's Most Misunderstood Creatures will open the reader's eyes, mind, and hearts to considering the caretakers of the ocean. The text is in the first person as though each type of shark is speaking to the reading and sharing a bit about themselves. The tone is light-hearted as if the shark is saying, "Hey look, I'm not a bad guy after all."
So as you swim in the oceans, be alert and if you see fins, maybe you should get out because the sharks are doing just what they are made to do - roaming the oceans, being its caretaker, and looking for food.
As you visit the various aquariums across the world, look at these magnificent creatures and be amazed; be thankful that they were created and that they roam the oceans.
At the end of the book, there is a great index so you can find the specific sharks, pages about attacks, about the food chain, and other delightful stuff.
GIVEAWAY
Begins July 8
ENDS July 28 @ 12:01 a.m. EDT
Open to USA addresses only
About the book: Meet 14 cool sharks (and one manta ray) and see why it's important to BE NICE TO SHARKS! Though they're often portrayed as vicious man-eaters, sharks actually kill fewer than 10 people per year. Yet those myths cause real harm: many species are being hunted to extinction, with as many as 100-200 million sharks being killed each year.
Matt Weiss
is the owner of Dive Photo Guide and is a diver, photographer, biologist, author, and ocean lover. Please Be Nice To Sharks is his first children's book. Follow him on Twitter at either @MattDPG or @DivePhotoGuide and learn more about him on his website: DivePhotoGuide.com. Matt lives in New York.
DISCLOSURE: I was provided a complimentary copy by Sterling Children's Books to facilitate this review. Opinions are my own. I was not compensated. Winner's copy will be shipped to them directly by the publisher.