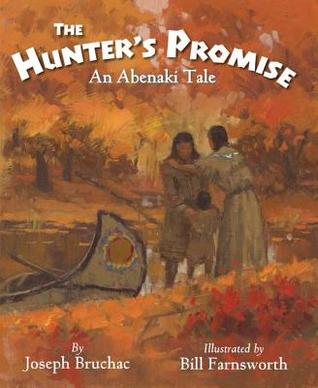 About the book:
"Promise to remember me!" was all the beautiful woman had ever said to the hunter. She had appeared from nowhere one day, when he had been lonely during the long winter hunting trip. Isolated in the vast wilderness of the northeast, he would only return to his village in the spring. Except that this year he would not be alone, because she had appeared.
The hunter had quickly fallen in love with the mysterious woman, and together they had become their own little family. But when spring arrived and it was time to return to the village, she disappeared just as suddenly as she had arrived. Would he ever see his love again? The hunter didn't know, but he was sure he would keep his promise and never forget her. That is, until one day the chief's daughter cast a spell on him!
World-renowned storyteller Joseph Bruchac retells this traditional story of love, loyalty, trust, and magic, which can be found in various forms among many of the indigenous nations of the northeast, both Iroquoian and Algonquin. Join him and award-winning illustrator Bill Farnsworth, as they recount this ancient and unique Abenaki tale of keeping a promise to one's family and of the proper relationship of humans to the natural world.
My thoughts:
This is a beautifully illustrated book that brings a retelling of a gripping folk story from the Abenaki Indians to children giving them a glimpse into what Indian life was like hundreds of years ago. The story incorporates real life and fantasy along with a touch of spiritualism.
I found it interesting with an easy flowing text. The beautiful illustrations artistically depict the seasons as a fine painting. The jealousy of the chief's daughter and trickery to have the hunter marry her is life changing. The chief's daughter used of a bird-spirit to wipe the memory of the hunter. Later the deception was revealed and the hunter proved loyal to his first promise.
I think this is an excellent introduction for children into the beliefs, cultures, and lives of Indians and into folktales of indigenous people; and it is an authentic retelling by Joseph Bruchac whose heritage is Abenaki. It is also a wonderful introduction for children to explore the fine art of Bill Farnsworth.
ENDS August 10 @ 12:01 a.m EDT
Open to USA addresses only
Find the book - click here