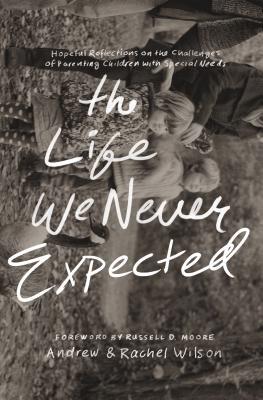 ISBN13:
9781433550997
Published: Crossway $12.99
About the book: What do you do when hard or painful circumstances turn your world upside down, resulting in a life you never expected? Andrew and Rachel Wilson grappled with this question after both of their children were diagnosed with regressive autism. Refreshingly honest, this book explores the highs and lows of raising children with specials needs, reflecting on the broader question of how to cope with suffering of all kinds. Sharing personal stories from their lives and encouragement rooted in the truth of God's Word, Andrew and Rachel highlight lessons they've learned related to fighting for joy and thriving in the midst of trials--ultimately pointing readers to Christ, the One who promises to make all things new.
My thoughts:
Reading
The Life We Never Expected
gives the reader a tiny glimpse into the window of the troubled, weary, exhausted, wondering soul of a parent who has been given the task of caring for a child of their own that is autistic. True there are varying levels of disability with
autism
and in the case of the Wilson family, it seems theirs are severely disabled.
We can see how their heart breaks when they see their seemingly normal child regress bit by bit into the touch-me-not, sensory heightened, hand-flapping, non-sleeping life of a severely autistic child. And this happens not just once, but twice to this sweet couple.
But why did God allow this? Why did God choose them as parents? Why were their children the autistic children?
The depth of the Wilson's dependence on God and on His Holy Word is soul-searching to the reader. It shows that we can feel the deepest despair and yet have the strongest of arms holding us when we entrust it all to this loving God whom we worship.
A short book but not a short read if you really want to gain something from its pages. Recommended for parents of autistic children? Who am I to say? Their hands are so full just trying to stay awake and get through another day they might be overwhelmed to be handed a book to read. But perhaps it will bless those who care for these troubled families who in turn can bless the families that are dealing with autistic children or any form of disabled child.
***FLASH***

GIVEAWAY
Begins July 5
ENDS July 15 @ 12:01 a.m. EDT
Open to USA & CANADA only
Only one entrant per mailing address, per giveaway. If you have won a prize from our sponsor Propeller / FlyBy Promotions in the last 30 days, you are not eligible to win. Or if you have won the same prize on another blog, you are not eligible to win it again. Winner is subject to eligibility verification.
a Rafflecopter giveaway
Disclosure (in accordance with the FTC's 16 CFR, Part 255: "Guides Concerning the Use of Endorsements and Testimonials in Advertising"): Many thanks to Propeller Consulting, LLC for providing this prize for the giveaway. Choice of winners and opinions are 100% my own chosen using the Rafflecopter process and NOT influenced by monetary compensation. I received a sample of the product in exchange for this review and post.