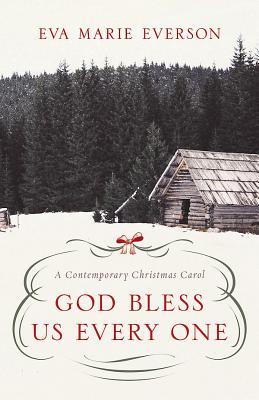 My thoughts:
I love that the setting of
God Bless Us Every One
is in my home state of North Carolina. The little town of Testament (fictional) is nestled in the mountainous area of Morganton (a real place). The characters are real, down-to-earth folks with real life issues, real likes and dislikes, real stuff happening in their live.
This contemporary story runs a bit parallel to Charles Dickens' "A Christmas Carol"; in fact each chapter begins with a meaty quote from Dickens. The reader will soon learn that Charlie's (female protagonist in story) father, John, is in prison. Note please that Charles Dickens' father's name was John and he was imprisoned in debtor's prison when Charles Dickens was a boy. Hmmmm.... getting the point?
As the story progresses, our modern day Charlie gets to know her father in his present day surroundings - a homeless shelter. Can she forgive for his past?
Love that Charlie and her childhood crush, Dusty are reunited and strike up a great friendship (errr.... relationship). But the sweet nugget at the end doesn't entail Charlie and Dusty. You'll have to read this delightful novella to find out just what that was.
God Bless Us Every One rates a 4 or a 5 star for Christmas novella reading.
About the book: A timeless classic can change the future.
Charlene Dixon---called Charlie by family and friends---is devastated at the recent loss of her job. For the last five years, the twenty-seven-year-old has blossomed as the activities director of an exclusive all-girls school. But when a misunderstanding with the head-mistress leads to a pink slip right before the holidays, Charlie packs up dreams and returns to Grandma Esther, who raised Charlie as her own.
When Charlie arrives---broken and confused---Esther immediately puts her granddaughter to work behind the scenes of the local school's Christmas play, A Christmas Carol. When Charlie disapproves of having to work with Dustin Kennedy, the seventh-grade English teacher, Grandma Esther encourages her to take a deeper look at why the book by Charles Dickens had been written in the first place and what the book could teach Charlie about the needs of the children in their own community.
GIVEAWAY
ENDS September 20 @ 12:01 a.m. ET
Open to USA addresses only.
a Rafflecopter giveaway
DISCLOSURE:I received a complimentary copy from Litfuse Publicity Group on behalf of the author and publisher to facilitate my review. Opinions are my own, alone. I was not compensated for this review.