Just who and what is Free Spirit Farm?
Free Spirit Farm products is the dream of two sisters from North Dakota who enjoy making lotions, soaps, lip balms and more, not only for our own use and our family, but also for anyone who might be trying to find a good source for skincare products that are made out of only healthy, natural ingredients!
They also sometimes have fiber products available, such as wool and yarn that we get from our own sheep and angora rabbits who enjoy a happy life on the farm! And as the young ladies say......
"We believe in doing things as naturally as possible, without using synthetic chemicals that are harmful to our bodies and the environment. All of our products are 100% NATURAL - no artificial preservatives, colors, or scents! I started making my own lotions a few years ago as the result of using some homemade lotion that a friend had given me. I was amazed by how effective it was and how great it made my skin feel! (Not to mention the wonderfully refreshing, uplifting scent from pure, natural essential oils!) Before using natural lotion I had such dry skin, my hands would get so chapped they would break open and bleed, and my face would be very dry and irritated. The average store-bought lotions were no help to me - they didn't even faze the dryness! Plus the unnatural synthetic scents would make me sick, giving me headaches and dizziness till I couldn't even wear it. This all-natural lotion totally does the trick! It's all nourishing ingredients moisturize and soothe, and is good for all skin types. Including people who are sensitive to chemicals, on their skin or just smelling them, since there is nothing unnatural or unhealthy in this. This lotion is super healthy and you can feel good about what what you are putting on your skin! You will be amazed by how smooth and silky your skin will be. Other skin care products just naturally blossomed from my lotion making. Why use unhealthy soap or other products on your body when there's a natural, sustainable alternative? So now I also make all natural soap too. I just love this soap!! It works so well, and is great with moisturizing and cleaning at the same time!"
Find them on their Etsy shop - click here
I have been privileged to try three of their lovely products. I really enjoy promoting natural products and especially when the products are produced in small quantities by individuals who can vouch for their products and the materials in them. In the case of
Free Spirit Farm
, these two young ladies have their own sheep and rabbits from whom they get materials for making these products and they use wonderful essential oils.
These are the three lovely products I received to review. As you see, I've been
lavishing this fabulous lotion on my hands and body.
Homemade Soaps
My skin feels great after using this lightly scented homemade lavender vanilla soap. It lathers nicely and is quite pleasant to use. A real treat. And when I consider that it is made from natural ingredients and homemade, I am quite impressed. Aren't they quite lovely?
The Lavender Dream soaps available in three different shapes: blocks, flowers, and hearts! The blocks are approximately 4.oz and are $3.99. The flowers are approximately 1.40 oz, sold in packages of two and are $3.95.
Lotions

(see picture above)
This is such a rich, luxurious lotion. It has a wonderful fragrance of lavender and vanilla. It takes just a tiny amount compared to other lotions that are not as rich. It does not leave my skin with that unpleasant sticky feel. The effects of the lotion on my body are lasting throughout the day. I am truly enjoying this natural lotion. This is well worth the price.
Lotions Ingredients: Grapeseed Oil, Almond Oil, Coconut Oil, Distilled Water, Borax, Beeswax, Emulsifying Wax, Vitamin E Oil, Essential Oils. These are lotion available in three different scents, Lavender Dream, Citrus Blast, and Peppermint Breeze! They are $8.50 each.
Lip Tints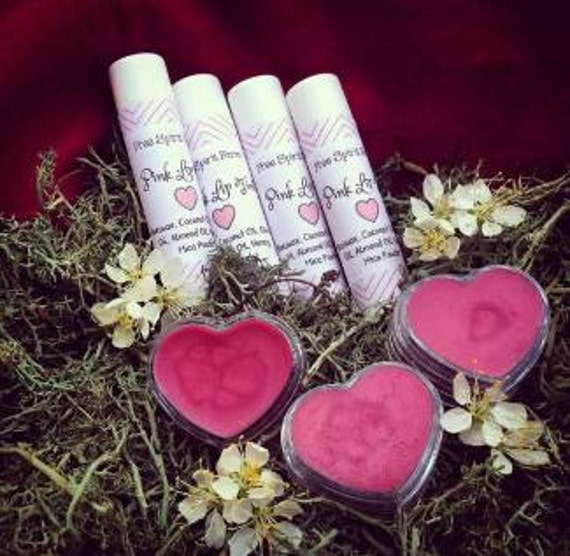 This little tube of lip balm is tinted with a wee bit of color that helps keep me from looking completely "washed out." Of course, they have a lip balm without color and it is in a variety of flavors. I like this little touch of color. Definitely a balm for my lips that seem to crack and peel. Love that it is natural!


Ingredients: Beeswax, Coconut Oil, Olive Oil, Almond Oil - Lip Tint are available in two colors: Pink and Red, and come in either tubes or heart shaped containers! They are $3.00 each.
Lip Balm or Lip Tint & Homemade Soap
In choice of scent/flavor
Begins August 3
ENDS August 24 @ 12:01 a.m. EDT
Open to USA addresses only.
Lip Balm or Lip Tint & Homemade Soap
In choice of scent/flavor
a Rafflecopter giveaway
DISCLOSURE: I received 3 products to facilitate this review. Opinions are my own. I used each of these products to determine my opinion. I was not compensated for this review.