I always count it a privilege to review the delightful books from Arbordale Publishing. They provide illustrations both drawn and photographic that beautifully portray the subject matter. They are often written in some form of rhyme. They are age appropriate and provide quality back matter that will pique the interest of those children with creative minds. CLICK HERE
The Forest in the Trees by Connie McLennan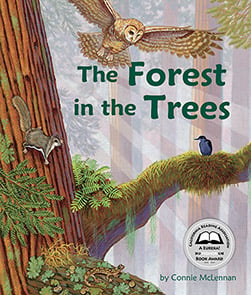 My thoughts:
I have had the opportunity to visit the California coastal area and have seen the magnificent Redwood trees. Awed by their majesty and age yet unaware that in those vaulted treetops lived another forest. The Forest in the Trees is enlightening, and furthermore it makes my heart awestruck by the sheer wonder of it all.
The text is written in a "This is the house that Jack built" rhyming style with repetitive lines building toward the climax. The illustrations are beautiful. The factoids are placed in separate boxes on the side of the page with text and illustration to accompany that fact.
I, personally, learned so much from this book and know that teachers will love introducing it to their students who will love to read or peruse it at their own leisure.
About the book:
It's common knowledge that coast redwoods are tall, tall trees. In fact, they are the tallest trees in the world. What most people don't know is that there is a whole other forest growing high in the canopy of a redwood forest. This adaptation of The House That Jack Built climbs into this secret, hidden habitat full of all kinds of plants and animals that call this forest home.
CLICK HERE to find it
Animal Skins by Mary Holland
My thoughts:
This publication by Arbordale provides clear and beautifully illustrated information for young learners about the various living creatures and their coverings. I absolutely loved the beautiful illustrations that were close up and detailed.
The text is factional and presented in paragraph format which is simply information. This book will appeal to young readers who want to know more about critters and to whom information alone provides entertainment.
This is not a storybook. This is an information book for young readers. With great information through the book and wonderful additional learning materials at the back. As per usual Arbordale publications, they have online information that can be copied or duplicated for individual or classroom use.
About the book:
Fur, feathers and scales are all animal coverings or skins. Animals use their skin to stay warm and dry, protect themselves or hide or even to warn other animals to stay away. Following Animal Noses, Animal Tails, Animal Eyes, Animal Mouths (NSTA/CBC Outstanding Trade Science Award), and Animal Legs, Mary Holland continues her photographic Animal Anatomy and Adaptations series by the many different ways that animals use and rely on their skin covering adaptations to survive in their habitats.
DISCLOSURE: I received complimentary copies from the publisher to facilitate a review. Opinions are mine, alone and are freely given.