Eating light. Eating healthy. Eating simply.

How to do it and still stay sane, satisfied, and

satiated

.



I am going to show you some dinners and lunches I have prepared for myself that are so simple and satisfy quite well. Also, they have that special caveat of being good for you - your heart health!
A lovely piece of salmon. You buy the finest you can afford. This is salmon from the cold waters of the
Patagonian
area. I poured Extra Virgin Olive Oil inside the baking dish (on bottom) then added salt, black pepper, and some chili powder. I stirred this with my finger tips. Then I took the largish piece of salmon and rubbed the flesh side first into the oil m
ixture. Flipped it over and rubbed the skin side in the mixture. Again, flipped it and made certain edges and top had a bit of the mixture. I baked it at 440℉ for the length of time (usually on package, but check your cookbooks) needed for it to remain moist but flaky.
Remove portions for yourself and whoever is dining with you. Serve as you like. I enjoy baking a piece of salmon large enough to facilitate the "day after" recipes. So much better for salads than canned salmon.
Again, a lovely piece of salmon. This package had 2 pieces that were marinated in a lovely, spicy, tangy seasoned oil/vinegar base. Prepacked in the marinade. I simply poured Extra Virgin Olive Oil over the inside bottom of the baking dish (I use a 8" Pyrex - brown - glass dish). No further seasoning is needed. I do the flip thing to make sure a bit of oil covers the top and bottom and perhaps the sides of the salmon. Bake it about 425-450℉ as long as need to produce a moist, flaky fish. Be sure it is done through, but still moist and flaky.
Served this time as a hot meal with steamed mixed vegetables and a lovely Asian green salad with feta cheese, mandarin orange slices, cranberries, and Asian dressing.
If you have left overs, use in the next day or so for a lovely salad.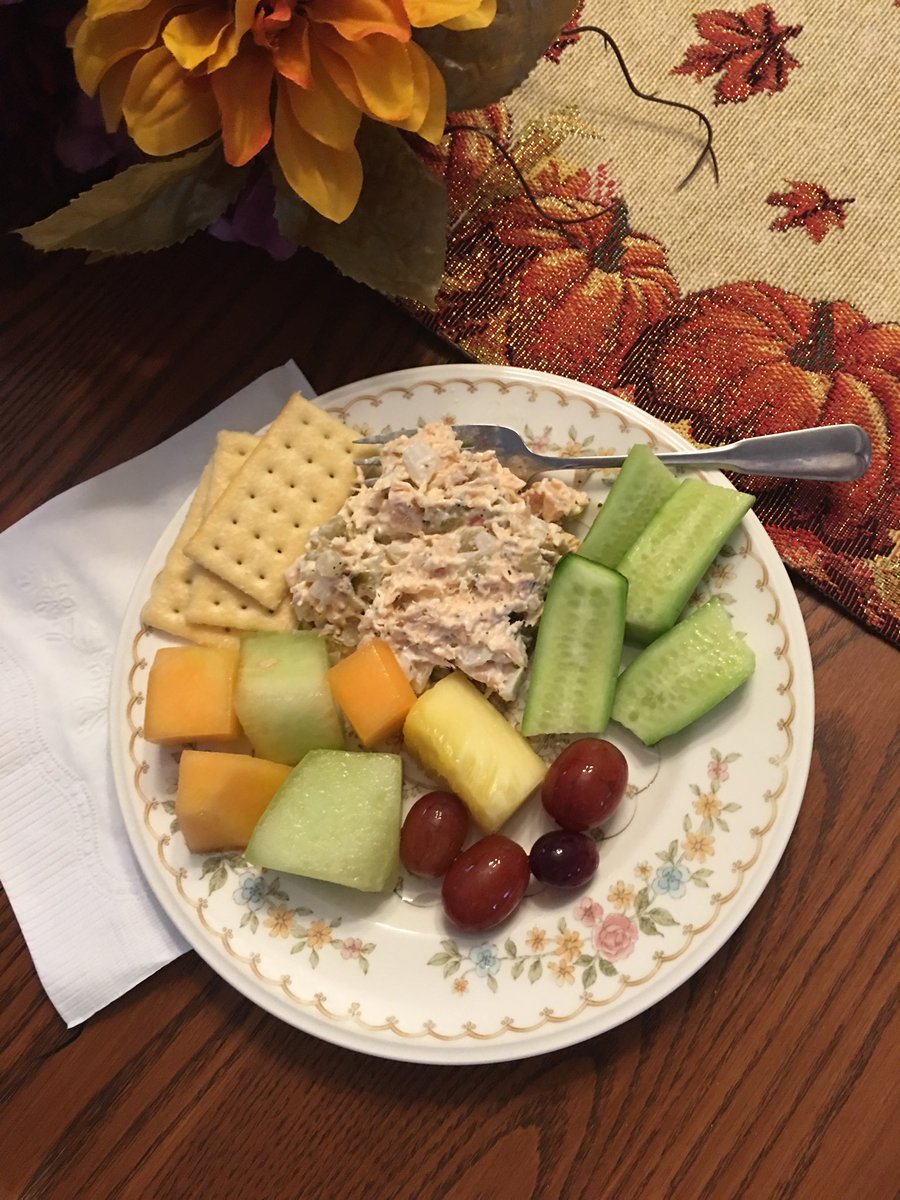 WHAT'S ON YOUR PLATE FOR LUNCH? Mine has a lovely salmon salad made from the salmon I baked the day before, a bit of chopped sweet onion, chopped dill pickle cubes (or you can use a mixture of the dill and the sweet relish or cubes), real mayonnaise, and a dash of black pepper and a sprinkle of celery seed. Paired with a lovely mini cucumber, fresh fruit, and a couple crackers.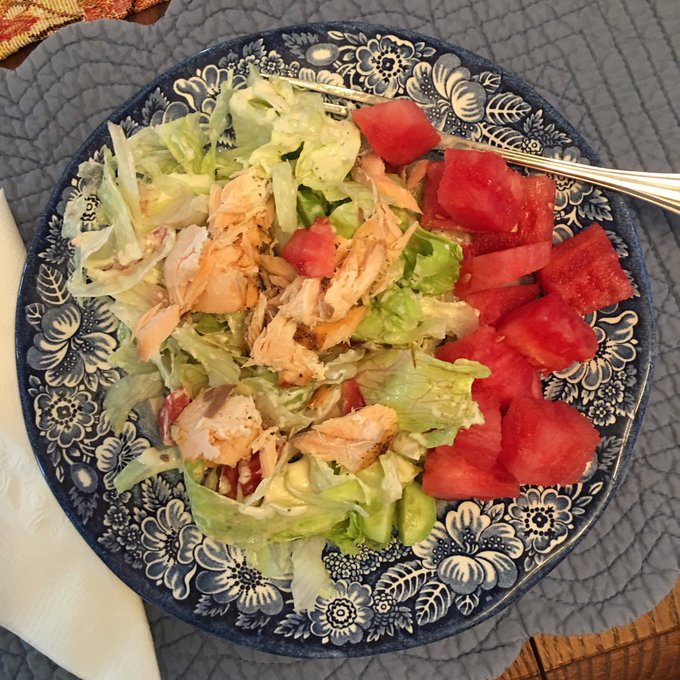 "Next Day" salmon... lovely lettuce, tomato, and tiny cucumber with salmon atop and a dill Caesar dressing. Watermelon on the side. Again this is from salmon I baked a previous day. I remove the skin portion, nicely wrap the flesh, and then microwave a few seconds until it is warm. Flake it over the bed of greens and season with whatever dressing you wish. Since the salmon was seasoned when originally baked, there is no need for additional salt, pepper, etc.

And we never want to miss taking a moment of quiet
when we can simply sip our tea to mellow us out a bit.
Perhaps, we'll take a moment to look at other items to cook besides salmon one of these days. Want to join me then?