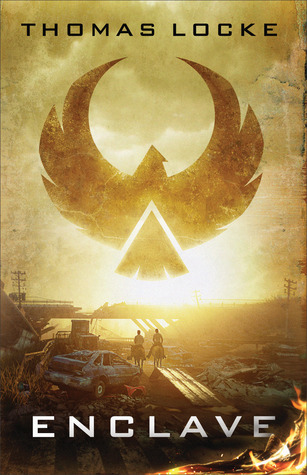 My thoughts:
Science Fiction is not a genre into which I typically delve nor do I find it pleasurable to read. I do, however, enjoy the writings of Davis Bunn and thought I would venture into this story by his pseudonym, Thomas Locke.
Venturing into the future by 50 years into an American society deplete of rule of law, defined states, and society completely rife of any sense of fairness or democracy, the story presented a plethora of characters who venture out of their geographically defined area called an Enclave to cross boundaries prohibited in an effort to transact business.
The story evolves to the point of conflict where good overcomes evil and this is, of course, the outcome that we all enjoy seeing. But what seems to begin as an adventuresome business venture becomes a battle for rule of law and democracy.
Definitely
dystopian, science fiction, post-tech period story with characters
with
weird abilities and who seemed as befuddled by their abilities as this reader was by the story.
About the book:
It's been 50 years since the Great Crash and what was once America is now a collection of enclaves, governed on the local level and only loosely tied together by the farce of a federal government. Catawba, one of the largest and most affluent enclaves in the southern states, is relatively stable and maintains a successful business of trade with nearby enclaves, including the one at Charlotte Township. But when a new vein of gold is found beneath the feet of those in Catawba, it's only a matter of time before trouble finds them.
Now the future of Catawba may be in the hands of an untried 21-year-old trader named Caleb. And Caleb knows that if his secret were ever to come out, he would never see another dawn.
DISCLOSURE: I received a complimentary copy from the Revell Publishing review program to facilitate this review. Opinions are mine alone and are freely given.