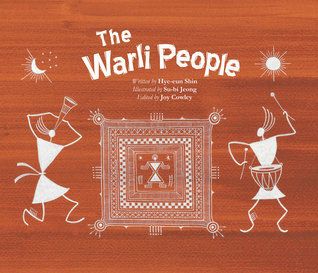 ISBN 9780802854766
My thoughts:
This Eerdmans Publishing book in the children's Trade Winds series gives children an opportunity to glimpse the art of a primitive culture in ancient India. The Warli were a hunter/gatherer culture that evolved into an agricultural people whose life was documented in the art the women of the tribe applied to the walls of their mud huts. Of course, centuries old mud huts have long ago deteriorated, but the art form managed to live on.
Using simplistic and geometrical forms such as circles, triangles, and squares to define their art, they pictured seasons and life, nature and people. I found it interesting to view and was amazed at the intricacies of the art even though very limited tools would have been available for them to use.
The text of the book is short and broken down into seasons, activities, and life in general. The back pages provide further information into the culture and geography. An interesting book.
This two page spread depicts the hunting Warli people. Note the stylized images of trees and creatures.
Like most cultures they celebrated harvest, Spring, life in general. This two page spread depicts Festival Night for the Warli People with dancing and music
About the book:
A poetic depiction of ancient India
The Warli people, who live in ancient India, work hard throughout the year. They plant seeds in the spring so that the summer monsoons will help the plants grow, and they harvest their crops in the fall and store the food for the long winter ahead. But despite the hardships they face, they also find time to celebrate life's joyous moments.
This Trade Winds book highlights the day-to-day life in an agricultural society and offers historical information about one of the world's earliest civilizations.
DISCLOSURE: I received a complimentary copy from Eerdmans Publishing to facilitate this review. Opinions are my own and freely given.