I continue to be amazed at the publications from Arbordale Publishing and the fun, educational material presented so well. Young readers can enjoy a bit of a story right along with a good dose of important information designed to stretch their intellectual abilities and develop their critical thinking skills.
Written and illustrated by skilled professionals who write and draw in the fields about which they themselves are proficient and qualified, the stories are engaging and sometimes just downright funny. Sometimes the author and illustrator (either a photographer or an artist that draws and paints) presents basic facts and tells them in an interesting manner. Sometimes, they weave a tale that is fanciful and fun but still packed with facts about the particular subject the book is designed to impart to the young reader.
Other great opportunities presented by Arbordale in relation to their books is the online material for each of the titles expanding further the information already in the print versions. There is a
For Creative Minds
on the Arbordale website section that provides another great option in the cross curricular teaching activity guide. Also, read aloud versions in the samples of
enhanced book
(
check this preview - turn on your sound
) links with highlighted words and speed controlled read aloud, Quiz Math Problems, Reading Comprehension Quiz, and teaching activities. Many of their publications are in English and Spanish.
Today, I am reviewing three titles from Arbordale and the publisher is graciously providing a copy of each book to one of Chat With Vera's readers to enjoy as well. Enter the contest by using the Rafflecopter widget below.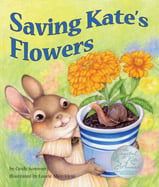 Saving Kate's Flowers by Cindy Sommer & illustrated by Laurie Allen Klein
My thoughts:
This book is beautifully illustrated with cute, lovable bunnies who are gardening. Kate (little girl bunny) and her mommy are getting the garden ready for winter as summer's flowers are fading. Kate wants to save some of the flowers so mommy shows her how to save various types.
This book is absolutely adorable. Presented just as though a "knowing" mommy talks to her little one at home. After all, home is most often the first learning/teaching stage and opportunity for a little one to discover the world about them and to satisfy their curiosity.
Horticultural lessons are gently taught as well as coping with sensitivities some have to having flowers inside the home.
About the book:
Fall is here and Kate is determined to save her flowers from the winter cold. Mom shows her how to scoop the flowers out of the ground, transplant them into pots, and give them water. Kate pots a couple flowers . . . and then some more…and a few more. With Mom distracted on the phone, Kate has filled the house with flowers, but Dad's sneezes mean the flowers have to go! Kate realizes she needs to find a new place for her flowers to spend the winter, but where?
Tuktuk Tundra Tale by Robin Currie & illustrated by Phyllis Saroff
About the book:
As the sun begins to set, arctic animals scurry to prepare for the dark, cold winter. Tuktuk the collared lemming is almost ready for the long winter night—all he needs is warm fur to line his nest. When one furry kamik (boot) slips off an Inuit driver's sled, Tuktuk is in luck! But as he drags it home, Putak the polar bear, Aput the arctic fox, and Masak the caribou eye this little lemming's prize and want it for their own. Tuktuk thinks fast, but can he outwit the other animals and convince them that one furry kamik is no good for anyone bigger than a lemming?
My thoughts:
This is a lovely book about some Arctic animals and how they survive. It is about how their winter coat changes to white which camouflages them from predators. It is also about how they build their homes and line them for warmth.
Beautifully illustrated in icy blues that entice the mind to feel the cold of snow and ice that the Arctic is made of and cute, charming critters both tiny and large the reader is enticed to learn multiple lessons about the Arctic. The seasons, life cycle in the cold, and vocabulary. Tuktuk's story is warm hearted and will appeal to all readers as the author has given him a personality and instinct for survival against the odds.
Magnetic Magic by Tetry Catasus Jennings & illustrated by Andrea Gabriel
About the book:
Dena loves using magnets to perform magic tricks for the kids at the pool. When Enrique arrives in town, he doesn't like that Dena is fooling the others. He gives her a century-old treasure map and Dena uses her compass and tools to plot the location of the treasure. To her surprise, the treasure is not where it should be! What could cause her compass to lead her off course? When she discovers the answer, will Dena keep fooling the other kids with magic tricks or will she help them learn about magnetism and the earth's shifting magnetic poles?
My thoughts:
A little venture into the physical sciences as this little girl wows her friends with antics purported to be magical but which are simply magnetic properties. She enjoys showing them her tricks but in actuality she is fooling them. An older boy comes along and challenges her for fooling the little kids. She doesn't see how fooling them is harmful, so he teaches her a lesson. But his lesson is two-fold.
The illustrator shows a population of multicultural children enjoying a day at the pool, learning about magnetism, and then eating ice cream together.
The book provides a lot of information about magnets and magnetic force including the Earth's magnetic field. This could really provide great opportunities for further exploration and experimentation with magnets.
GIVEAWAY ~ 3 books, 1 winner
(1) Saving Kate's Flowers
(2) Tuktuk Tundra Tale
(3) Magnetic Magic
Ends April 18 @ 12:01 a.m. EDT
Open to USA Addresses Only
a Rafflecopter giveaway