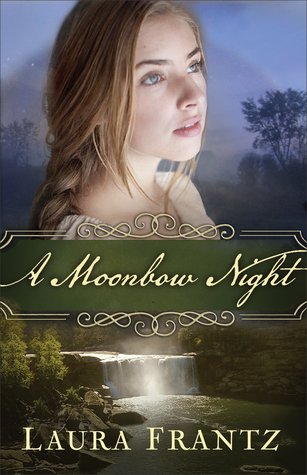 My thoughts:
First of all, I was struck by curiosity about the probability of a "Moonbow" (think.... "rainbow" but at night). So as I began reading Laura Frantz's latest frontier story, I did a bit of research - specifically into the Moonbow in the Kentucky area. Fascinating bit of information and, yes, they do exist!
The first pages of
A Moonbow Night
left me feeling the cold icy sting of a Winter storm in the mountains of Western North Carolina and East Tennessee. As the surveyors trekked through the woods trying to avoid the Indians by being as quiet as possible and not lighting the fire that could warm their feet and cook food that would bring their body temperatures to more normal range, the cold seeped into their very being.
It is 1777 and the surveying party of men was surprised to find three women and a man managing an inn of sorts in an isolated part of the wilderness, but they were delighted to partake of the wonderful food and shelter from the elements after being on the trail so long.
Frantz is a true-to-the-period author as she writes of happenings, people, and the land of early frontier days in the settlement of America. In this story, the British were inciting the Indians against the westward movement of settlers and particularly surveyors. It simply was not a safe land through which to perilously journey.
This is a book of historical Christian fiction that brings the reader a terrific frontier adventure and a sweet romance as it develops between two individuals who have previously experienced great personal loss and who are strong characters.
About the book:
After fleeing Virginia, Temperance Tucker and her family established an inn along the Shawnee River. It's a welcome way station for settlers and frontiersmen traveling through the wild Cumberland region of Kentucke--men like Sion Morgan, a Virginia surveyor who arrives at the inn with his crew looking for an experienced guide. When his guide appears, Sion balks. He certainly didn't expect a woman. But it is not long before he must admit that Tempe's skill in the wilderness rivals his own. Still, the tenuous tie they are forming is put to the test as they encounter danger after danger and must rely on each other.
With her signature sweeping style and ability to bring the distant past to vivid life, Laura Frantz beckons readers to join her in a land of Indian ambushes, conflicting loyalties, and a tentative love that meanders like a cool mountain stream.
DISCLOSURE: I received a complimentary copy from the publisher to facilitate a review of my personal opinions. I was not compensated for a reward.