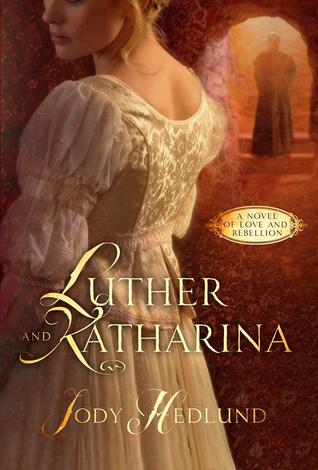 About the book:
She was a nun of noble birth. He, a heretic, a reformer…an outlaw of the Holy Roman Empire.
In the 16th century, nun Katharina von Bora's fate fell no further than the Abbey. Until she read the writings of Martin Luther.
His sweeping Catholic church reformation—condemning a cloistered life and promoting the goodness of marriage—awakened her desire for everything she'd been forbidden. Including Martin Luther himself.
Despite the fact that the attraction and tension between them is undeniable, Luther holds fast to his convictions and remains isolated, refusing to risk anyone's life but his own. And Katharina longs for love, but is strong-willed. She clings proudly to her class distinction, pining for nobility over the heart of a reformer. They couldn't be more different.
But as the world comes tumbling down around them, and with Luther's threatened life a constant strain, these unlikely allies forge an unexpected bond of understanding, support and love.
Together, they will alter the religious landscape forever. - See more -
CLICK HERE
My thoughts:
Anyone who has read about or studied church history and the conflict between the established Catholic church and the emerging reformation movement realizes that this was a period of time fraught with peril to individuals on both sides. In Germany when Martin Luther nailed his 95 thesis to the door (1521 AD) the fires of revolution and uprising were lit. Luther's writings of pamphlets were secretly spread against edits of the Pope, the Emperor, and the ruling Princes.
Inside the monasteries and nunneries these writings were secretly read and kept hidden. To read or to possess such was cause for terrifyingly cruel punishments.
It is upon this scene that the story of Luther and Katharina opens. Katharina has led a cloistered life since being abandoned by her nobility family and left in the nunnery at the tender age of five. She has know nothing but peace,solitude, worship, prayer. She, being from the nobility, has received kindly treatment in the nunnery. However, rumors abound that this is not the case with the other nuns. As the book opens, 24 year old Katharina is ready to leap from the second story window under cloak of darkness with seven other nuns to escape and to follow the teachings of Martin Luther.
The common populace and the ruling class has little respect for nuns seeing them as loose women kept cloistered for the pleasure of the priests and monks. So this "reputation" follows these virtuous women as they escaped.
From the moment Luther and Katharina meet, they match wits and arguments. He calls her a hissing Katz, and she calls him Herr Doctor.
I found it interesting that as Katharina begins to live in the "world" she still clings to learned ways to practice her beliefs. Her prayers must still be those she learned in her cloistered life because she fears God will not want her to pray her heart's needs in her own words. Her clothes are fitted and she is accustomed to the loose nun's habit that completely covers her. She experiences emotions strange and bewildering in this new world in which she dwells.
I think that the author, Jody Hedlund, has done a beautiful work in bringing life to Luther and Katharina basing her characterization on actual information from her research. She has fleshed out the story with conversations and happenings that are fictional from her own imagination. However, Hedlund has written with great respect for the period of history, the trials and tribulations that the reformers endured, and the people themselves. She has presented history in its beauty as well as in its terrifying ugliness and brutality.
I heartily recommend this well written book to Chat With Vera readers. I hasten to caution against teen readers because of the customs of marriage during that period, the sweetly romantic scenes between Luther and Katharina, as well as the bawdy insinuations of "revered" individuals. This is Christian historical fiction with realism. It is not actually lewd or vulgar. It is simply not a book I would hand teens.
Timeline of Reformation:

(I copied the following information from the Internet and I apologize because I can't find the source now. Just to let it be know, that I would give credit to compiler if I could again find it.)
1517

Pope Leo X sell indulgences to rebuild church in Rome

Martin Luther posts 95 theses on door of castle church in Wittenberg

1520

Pope Leo excommunicates Martin Luther

1521

Martin Luther guilty of heresy by German Diet of Worms

1521

Ignatius Loyola gives up life as a noble to serve god and Catholic Church

1524

Lutheran Church formed in northern Germany

1531

Ulrich Zwungli leader of Protestant movement in Switzerland
Killed in battle with Catholic forces

1534

Parliament passes law King is head of Church of England

1534

French King Francis I forbids Huguenots to worship freely.

1540

Ignatius Loyola founds Society of Jesus; Black robes simple life

1553

King Edward VI of England dies

Mary becomes Queen of England

Mary accepts Pope as head of Church of England.

1555

Peace of Augsburg Catholic and Protestant Churches in Germany
Begins September 15 & ENDS October 8 @ 12:01 a.m. ET.
Open for addresses in USA
a Rafflecopter giveaway
More about the author - Jody Hedlund
visit her website at:
http://jodyhedlund.com
Or see her author page at the publisher's website:
http://waterbrookmultnomah.com/author-spotlight.php?authorid=257470
DISCLOSURE: I was provided a complimentary copy to facilitate this review. Opinions are mine alone. I receive no compensation for this review.