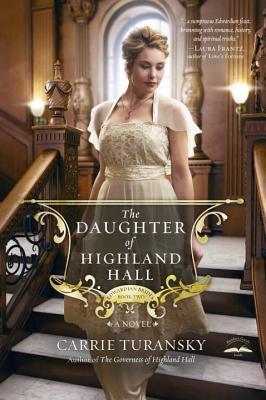 ISBN: 9781601424983
Waterbrook/Multnomah Publisher
About the book:
When family expectations and societal pressures collide with love and faith, which values will emerge the victor? Award-winning author Carrie Turansky explores this theme in her new book, The Daughter of Highland Hall.
Book two in the Edwardian Brides Series, The Daughter of Highland Hall, follows 18-year-old Kate Ramsey on a journey of self-discovery as she travels to London to make her societal debut. Her overbearing aunt insists she secure a marriage proposal from a wealthy, titled man. As Kate begins making the round of balls and garden parties, she attracts the attention of Edward Wellington, who seems to have all the qualifications on her list. Yet, is he the best choice? Will this lifestyle bring her true happiness?
Fans of this time period, as represented in the popular TV show Downton Abbey, will be charmed by The Daughter of Highland Hall, which captures both the upstairs and downstairs aspects of Edwardian life, giving readers an emotional connection with the aristocratic Ramsey family and the hardworking, loyal servants.
This pure and inspiring romance will warm the hearts of readers and ultimately point them to the Author of their own love stories.
My thoughts:
I recently reviewed another book by a different author set in the same time frame - pre-World War I but that story was set in the United States. Now we're "across the pond" in pre-World War I England. The setting is the social astute with the presentation of one of their own to the Queen and commencing of the young lady's social season. Kate is a young 18 year old whose family home, Highland Hall, has now been passed along to a distant cousin because male heirs are the ones who inherit title and land.
Characters include a young doctor who grew up in India as the son of missionary parents and who feels the calling to return and serve the poor of India with his medical training. Kate the young lady being presented to court has an inheritance, just no land. Previous characters from Turansky's first book in this series - William and Julia - are about to marry. These are well-drawn characters and the plot moves with grace as they live out their stories.
All is not necessarily well, though. Cutting remarks are made as to Kate's family connections being questionable. Any despairing remark can ruin a social season and cost the young lady the opportunity to marry well. There is a man of wealth and stature in Kate's future, that is unless her family or she herself is criticized to the extent that her season is cut short and ruined.
I found it interesting to compare life during these pre-war years in different parts of the world. Both include snobbery. Both include "lower" class. Both include spiritual truths. It is such a joy to have books available to read that are well-written, clean, entertaining, knowledgeable, and that contain spiritual truths.
GIVEAWAY: Begins October 16 & ENDS November 6 @ 12:01 a.m. ET. Open to USA addresses only.
a Rafflecopter giveaway
About the author:
Carrie Turansky is the award-winning author of more than a dozen novels and novellas, including Surrendered Hearts, Snowflake Sweethearts, and Along Came Love. She has been the recipient of the ACFW Carol Award, the Crystal Globe Award, and the International Digital Award. Turansky's first historical fiction novel, and the first in the Edwardian Brides series, The Governess of Highland Hall, is a 2014 Carol Award finalist. While Turansky has been writing articles, devotions and essays since 1999, writing fiction is her passion, and she's thankful for the creative ideas God has put into her mind and heart. Turansky was born and raised in Oregon but currently lives in central New Jersey with her husband, Scott, who is a pastor, counselor and the author of several parenting books.
DISCLOSURE: I was provided a complimentary copy of Daughter of Highland Hall by Litfuse Publicity Group in exchange for my review. Opinions expressed are solely my own. I received no compensation for this review.