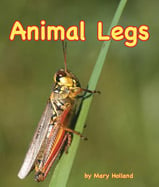 Hardcover $17.95 9781628558432
Paperback $9.95 9781628558449
My thoughts:
Mary Holland has a gift for capturing details in her photographs that one's eye simply can not see and she uses these wonderfully detailed photographs to tell the story of how insect and animal legs are unique to their very specific needs. Their feet and legs move, clutch, taste, and capture enabling them to find prey and then capture or escape it, land on flowers and taste, swim or climb, etc.
So wonderfully designed are these creaturs! Webbed feet for propelling the creature through the water. Talons (claws) for birds of prey to capture small animals. Feet that taste. Feet that cling. Feet that climb.
Caterpillers have six real legs they keep when they become butterflies or moths but in their larvae stage they have prolegs. I didn't know that
!
I was simply intrigued by all these fascinating bits of information and the wonderful photographs that show the details. The book's design is perfect in my opinion. The text is black on a creamy white background and is in side panels on the pages. This leaves the pictures clear without overlaying text and the text in sidebars is short-lined making it easy to read.
In the back of the book there are a few pages that provide more information that will engage the creative mind and active learner. These are treats that each of the Arbordale Publishing books has so that your child can further pursue knowledge or experiment with the information they just learned.
About the book:
Can you smell with your feet? Do you dig your claws into a river's muddy bank to climb up and bask in the sun? Animals' legs are different from humans' in so many ways! Find out why strong talons suit a raptor, or webbing is perfect for water dwellers as author Mary Holland continues her photographic Animal Anatomy and Adaptations series by exploring the ways insects, amphibians, reptiles and mammals make their way in the world.
About the author/illustrator:
Mary Holland is a naturalist, nature photographer, columnist, and award-winning author with a lifelong passion for natural history.
Ends October 22 @ 12:01 a.m. ET
Open to USA addresses only.
a Rafflecopter giveaway
DISCLOSURE: I received a complimentary copy from Arbordale to facilitate this review. Opinions are my own and were given without compensation.