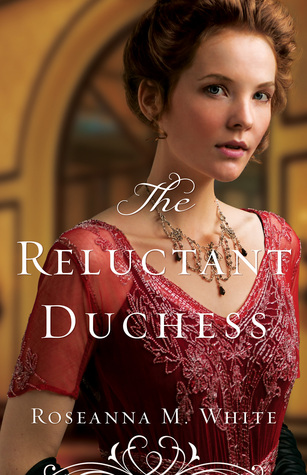 About the book: Lady Rowena Kinnaird may be the heiress to a Highland earldom, but she has never felt good enough—not for her father, not for the man she thought she'd marry, not for God. But after a shocking attack, she's willing to be forever an outcast if it means escaping Loch Morar and the men who have jeopardized her life.
Brice Myerston, the Duke of Nottingham, has suddenly found himself in possession of a rare treasure his enemies are prepared to kill for. While Brice has never been one to shy away from manor-born ladies, the last thing he needs is the distraction of his neighbor, Lady Rowena, who finds herself in a desperate situation. But when the moody Earl of Lochabar tries to trap Brice into marrying Rowena, Brice finds he's not as opposed to the idea as he expected to be.
Rowena wanted to escape the Highlands, but she's reluctant to resort to marrying a notorious flirt just to gain his English home. And when she learns that Brice is mixed up in some kind of questionable business with a stolen treasure, she 'fears she's about to end up directly in the path of everything she was trying to avoid.
My thoughts: I usually enjoy Roseanna M. White's books but I have somewhat mixed feelings about this one.
It has good character development with sweet ladies and mean ladies. It has a wonderful Duke who is described as handsome (of course), has a strong faith, and a wonderful character. It has a couple of really mean men - the father of Rowena and her erstwhile fiance, Malcome.
The story is an ongoing saga replete with sad sensationalism. A shocking physical and brutal attack on Rowena by her fiance is described. This is referred to frequently as Rowena continues to be plagued by its aftermath. There is a lot of family drama, friends who are deceitful, and more than one attempted murder.
The story was clean but a bit more dramatic than I normally like to read. It is probably a faithful rendering of situations that could have and probably did happen more often than one likes to believe. So I can't and won't doubt its veracity.
I truly love the faith that the Duke has and how he is willing to have God lead and direct his every step. He listens to God. He obeys God. And his life is filled with outward evidences of a Godly life toward his wife, his employees, and his friends and neighbors.
Do I recommend it? Not for younger than high school graduates. Is it a clean read? Yes, in that it does not crudely describe bad situations. How do I rank it? I would give it a 3.5 out of 5.
DISCLOSURE: I received a complimentary copy from Bethany House a division of Baker Publishing Group to facilitate this review. Opinions are my own and I was not compensated.