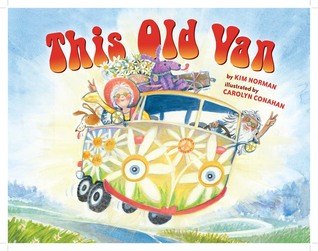 ISBN: 9781454910633
Hardcover - $14.95
Sterling Children's Books
About the book:
This old van, she passed one, shining in the rising sun. With a click clack rattle rack,ready for some fun,This old van says,"Goodbye, one!"
Take a rollicking ride in This Old Van, a joyful take on the classic children's counting song. As the colorfully painted vintage vehicle, driven by a really cool pair of grandparents, rolls down the highway, it passes one train, two bulldozers, three tractors, and four semis, right up to ten muddy motorbikes. And along the way, luggage flies off, horns honk, and the hurrying van zigs and zags—till it arrives at its destination JUST IN TIME! You won't be able to resist singing every fun verse out loud.
My thoughts: Flower Power, Hippies, Free living/loving, and those roaming VW campervans driven hither and yon across America (and other parts of the World?) are memories of a by-gone era that ran alongside of Vietnam protests, anti-war sentiments, and everything status-pro. Those folks are now aging grandparents. And some still hold onto those styles they loved so dearly. In this cute, colorful, and charming story a pair of aging hippies still have "this old van" and it is still painted in those wild flowers and designs they loved. Here they come! Watch out for this rollicking van to come careening down the road.
Reprinted with permission from
This Old Van
© 2015 by
Kim Norman
, Sterling Children's Books, an imprint of Sterling Publishing Co., Inc. Illustrations by Carolyn Digby Conahan
Gramps and Granny read over their invitation from Jake, they load up the VW Campervan, and begin rolling along. All along the way the click clack rattle rack van passes cars, trucks, stores, ice cream and lots of things and stuff. Careful attention to detail will elicit delightful visual and word puns.
This old van, she passed FOUR,
roaring toward the grocery store.
With a click clack rattle rack,
pedal to the floor,
this old van says,
"GOOD-BYE, FOUR!"
On and on they go roaring, rolling, and rhyming until they get to their destination
Just in Time!
Delightful illustrations done in soft and very colorful pastels, capture the essence of Gramps and Granny and their own particular era to which they've held onto. It also captures the joy they experience and anticipate as they count their way to see Jake and his special event.
This is a fun book that will be read repeatedly to children simply because it is fun, engaging, cheerful, rhymes, and can be sung to the old tune of "This Old Man, He Played One, He played knick knack on his thumb...."
Begins August 4 & ENDS August 26 @ 12:01 a.m. EDT.
Open to USA addresses only.
a Rafflecopter giveaway
DISCLOSURE: I received a complimentary copy to facilitate this review from
Sterling Publishing
. Opinions are mine, alone. I received no compensation. The giveaway copy is also provided by Sterling who will send it to the winner.