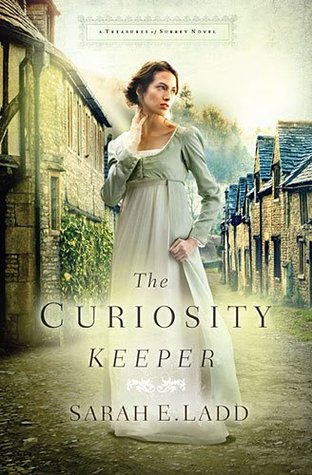 "It is not just a ruby, as you say. It is large as a quail's egg, still untouched and unpolished. And it is rumored to either bless or curse whoever possesses it."
Camille Iverness can take care of herself. She's done so since the day her mother abandoned the family and left Camille to run their shabby curiosity shop. But when a violent betrayal leaves her injured with no place to hide, Camille must allow a mysterious stranger to come to her aid.
Jonathan Gilchrist never wanted to inherit Kettering Hall. As a second son, he was content to work as the village apothecary. But when his brother's death made him heir just as his father's foolish decisions put the estate at risk, only the sale of a priceless possession---a ruby called the Bevoy---can save the family from ruin. But the gem has disappeared. And all trails lead to Iverness Curiosity Shop---and the beautiful shop girl who may be the answer to his many questions.
Caught at the intersection of blessings and curses, greed and deceit, these two determined souls must unite to protect what they hold dear. But when a passion that shines far brighter than any gem is ignited, they will have to decide how much they are willing to risk for their future, love, and happiness.
My thoughts:
Sarah E. Ladd has again succeeded in crafting a story that unfolds the hearts and minds and souls of beautifully drawn characters.
The Curiosity Keeper
is a treasure of a young lady raised in early youth on an English estate
and who has all the bearings of a lady born. She is, however, now in the back streets of London in her father's Curiosity Shop. Hence, she is the keeper of the curiosities.
We meet her father, who while raised benefiting a gentleman, has lower himself in his personality and character to rude, mean, and brutish. Enter the scene our male hero - the current heir to the Kettering Estate, but whose heart and soul belongs to the healing trade of Apothecary.
A traitorous theft, a cruel stabbing, a mad chase, a desperate escape take these unforgettable characters on uncharted paths.
There is a sweet romance that blooms amidst this trouble. And as always, we look forward to the next installment in the Treasures of Surrey and hope to see more of Camille and Jonathan.
Begins July 17 & ENDS July 31 @ 12:01 a.m. EDT.
Open to USA addresses only.
a Rafflecopter giveaway
About the author: Sarah E. Ladd
has more than ten years of marketing experience. She is a graduate of Ball State University and holds degrees in public relations and marketing. The Heiress of Winterwood was the recipient of the 2011 Genesis Award for historical romance and a finalist in the Debut Author category of the 2014 Carol Awards. The second book in the series, The Headmistress of Rosemere (2013), was on the ECPA best-seller list for several months.
DISCLOSURE: I was provided a complimentary copy to facilitate this review by Litfuse Publicity Group. Opinions expressed are solely my own. I was not compensated for this review. Giveaway copy is also provided by Litfuse.