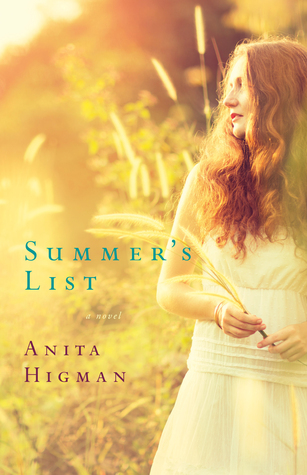 About the book:
A dying wish alters the course of a young woman's life.
Life hadn't been easy for Summer Snow. In acts of selflessness---caring for her ailing parents and running her grandmother's bookstore---she had forfeited her youth and dreams for the needs of others. And the only tries she had at love . . . didn't turn out. She had the bookstore, she had her beloved granny, but she was missing something---or someone.
Opportunity strikes when Granny sends Summer on an unexpected adventure with one Martin Langtree, a kind but gangly young man from Summer's past. A childhood friendship is rekindled, a romance is sparked, and mysteries are solved in one magical Texas summer. Will Summer strike out on love again, or will things finally go her way?
My thoughts:
As usual, author Anita Higman has woven a lovely story involving a sweet Granny (whom we all will love and wish were our Granny), brothers who are scoundrels, sweet romance, grief, and restoration. People of faith who lived and shared their faith in a loving, caring God.
Summer is quite a sweet young lady but one who has missed out on love and the adventure of establishing a life of her own because she sacrificed her future to care for ailing parents until their death. Now her Granny has a special, dying request of Summer.
Being reunited with a childhood friend from 20 years prior is a story in itself and so sweet. The beauty of Anita Higman's prose captures the reader's interest and desire to continue page after page until the end is reach. A good read. A sweet read (though you'll want to do physical harm to the two brothers). A lovable dog and a faithful housekeeper are all part of the mix of characters whose involvement color the canvas of
Summer's List
.
Purchase a copy: CLICK HERE
1 Copy of Summer's List
Begins June 26 &

ENDS July 3

@ 12:01 a.m. EDT.
Open to USA addresses only.
a Rafflecopter giveaway
About the author: Best-selling and award-winning author, Anita Higman, has over thirty books published (several coauthored) for adults and children. She's been a Barnes & Noble "Author of the Month" for Houston and has a BA degree, combining speech communication, psychology, and art. Anita loves good movies, exotic teas, and brunch with her friends.
DISCLOSURE: I was provided a complimentary copy by Litfuse Publicity Group on behalf of the publisher and author to facilitate this review. Opinions are mine alone. No compensation was received for this review. Giveaway copy is provided by Litfuse Publicity Group.