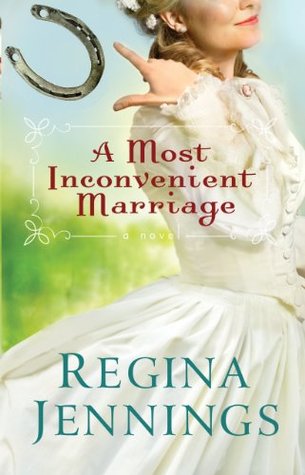 About the book:
Having fled a difficult home life, Civil War nurse Abigail Stuart feels like her only friend in the world is sweet but gravely wounded patient Jeremiah Calhoun. Fearing he won't survive, the Confederate soldier's last wish is that Abigail look after his sickly sister at home. Marry him, return to his horse farm, and it'll be hers.
Left with few choices, Abigail takes him up on his offer and moves to Missouri after his death, but just as the family learns to accept her, the real Jeremiah Calhoun appears--puzzled to find a confounding woman posing as his wife. Jeremiah is determined to have his life back to how it was before the war, but his own wounds limit what he can do on his own. Still not fully convinced Abigail isn't duping him, he's left with no choice but to let the woman stay and help--not admitting to himself she may provide the healing his entire family needs.
My thoughts:
Regina Jennings brings her readers stories that are relaxing and enjoyable to read with humour and lively characters that captivate the reader's attention all through the book. The story involves post Civil War characters who have seen the horror and devastation that war brings to a country. It tells of an area in the border between the North and South where loyalties are not clearly drawn and neighbors continue to war with one another. But most of all, this story is one of loyalty and forgiveness.
While it deals with the issues of post-war Missouri - the poverty, severe illness and traumatic war injuries, it factors in unbelievably humourous situations that border on the ridiculous. Historical fiction is a favorite genre, but it can sometimes be a weighty read. From time to time we need a simply fun read and that is what Regina Jennings brings to the table with
A Most Inconvenient Marriage
.
Characters: While not major, several stand out as charming to me as I read. "Ma" - mother of Jeremiah is accepting, forgiving, enduring, and sometimes just simply a "mountain" woman. "Betsy & Jessie" - brother and sister and children of Jeremiah's poverty-stricken, and caring neighbor. These two are continuously into mischief and pranks. You'll love them.
DISCLOSURE: I received a complimentary copy from
Bethany House Publishing
in exchange for my honest review. Opinions expressed are my own and I received no compensation for this review.